Got Your Manufactured Home Hauled?
Through the years we've dedicated ourselves to providing stress-free manufactured home transport for every client.
A specialized manufactured home mover specialist takes down all the details in order to find solutions that fit your needs.
Manufactured homes, come in a variety of sizes, with the most common being single and double wide mobile homes. The transport process must be planned in advance, which means acquiring everything necessary including permits for a safe manufactured home move.
Hiring an experienced manufactured home moving company is essential, because you want your home delivered safely and on time.
We understand that your manufactured home is more than just a house—it is your home.
This means when you need RV transport or manufactured home moving services, you need it to be reliable. Whether you need local manufactured home shipping or need to haul it across the country, Star Fleet Trucking makes sure it is done right.
Depending on the type of mobile home, you may be able to utilize the homes own axles and wheels. Otherwise, Star Fleet Trucking works with elite drivers with the best trailer to get your manufactured home delivered safely.
Our goal is to make sure your manufactured home is moved safely, reliably, and with quality service. Customer satisfaction is our top priority.
Call now for a free mobile home transport estimate! (260) 788-0299 ext. 2691
Take Your CDL-A Business To the Next Level … Driver Flatbeds, Step Decks & Heavy Haul Routes!
Are you an experienced box truck driver? Star Fleet Trucking is looking in your area for experienced truck drivers for our the Florida, Indiana, Pennsylvania, Texas Terminal regions. Star Fleet Trucking's drivers are independent contractors who drive manufactured homes from manufacturers to their destinations, across the USA. All loads are non-forced dispatch, meaning you drive when and where you want. You get paid while traveling the country and enjoying your freedom! Also, with our expedited online orientation we'll have you started in no time. No equipment needed! No touching freight or getting in and out delivering merchandise.
Multiple positions available.
Driving with Star Fleet feels like family.
We give you the benefits, resources and flexibility you need to make your career life choice a safe, rewarding and successful one.
Together, We Are Going Places.
CDL-A OTR OWNER OPERATOR TRUCK DRIVER JOBS
By Phone
Toll Free: 877-805-9547
Local: 574-825-1060
Fax: 574-825-5779
By Mail or In Person
Recruiting Office:
221 US 20 Unit D
Middlebury, IN 46540
Call:
(877) 805-9547
Star Fleet Trucking's nationwide network of agents and terminals afford our drivers easy access.
We have maintenance facilities complete with the necessary tools and resources for drivers.
Call a recruiter today!
Questions?
We have answers.
The process of transporting a manufactured home is no easy task. Star Fleet Trucking offers the most stress-free way to move a mobile home across the state or across the country. We have over 30 years of experience towing and hauling manufactured homes, modular homes, park model homes, tiny homes, and mobile offices. Whether you have a single wide mobile home, double wide mobile home, or any type of manufactured building, our transporters are experts at handling all aspects of its transportation safely and efficiently.
Driver Qualifications
25 Years of age
Class A C.D.L.
6 Months Current O.T.R Experience
6 Months RECENT Oversized or Toter Experience (if not may qualify for training program)
Able to pass a DOT Physical (with at least 6 mos left on it) and D.O.T. Drug Screen
No DUI in past 4 years
No more than 2 moving violations in past 12 months (rolling)
No more than 2 preventable accidents in the past 36 months
Must meet all requirements of Parts 391 FMCSR
Equipment Requirements
Toter Equipment Requirements
10 year old or newer tractor – Older tractor allowed upon review / inspection
Extended Towing Mirrors – Amber Lightbar / Warning Light Set Up
Pintle Hook – Hitch Ball – Electronic Brakes – Breakaway Switch
Additional equipment based on areas of operation
Operation & Training
Orientation Check List
Your Tractor – Inspected and a McCleod App Installed
Proof of Insurance if using your own coverage
Securement Equipment – All equipment must be present for inspection
Clear Copy of your Paid Form 2290  Heavy Highway Use Tax 
Clear Copy of Your Trailer Title/Registration
Your Valid Commercial Drivers License
Medical Card & Long Form Physical
Bank/Checking Account Information – For Direct Deposit
Emergency Contact Information
Orientation Locations
Orientation Offered Nationwide at ALL Terminal Locations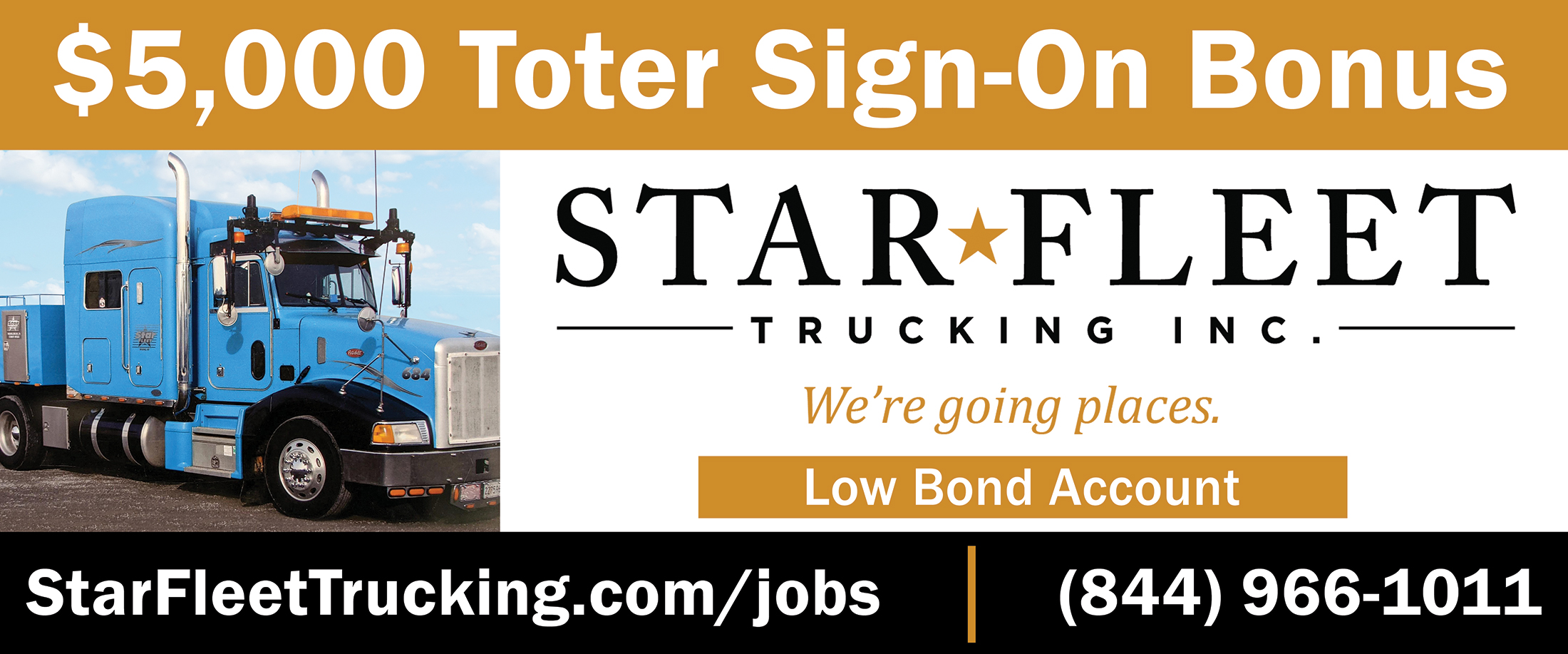 Up to a $5000 Bonus, and Star Fleet offers an incredible truck loan program for totoer drivers. Call recruiting for details.
Our Manufactured Housing Transport division provides timely movement for a variety of factory built structures, manufactured housing, modular housing, park models and commercial buildings. While the majority of our shipments are new homes going from manufacturer to dealer, Star Fleet Trucking also have Owner/Operators who specialize in the movement of power only.